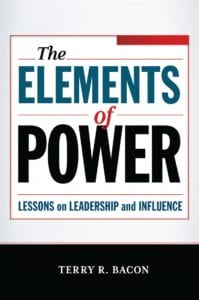 The Elements of Power:  Lessons on Leadership and Influence explores how people develop the power to lead and influence others.  It describes the five sources of personal power (knowledge, expressiveness, attraction, history, and character), the five sources of organizational power (role, resources, information, network, and reputation), and the one meta-source (will).  With numerous profiles of business leaders, political leaders, and other famous people, the book describes how people gain power--and how they can lose it.
Like most of my books, this one is research based.  For nearly 20 years, I and my colleagues have been researching power and influence.  My interest in this topic began decades ago as I was teaching leadership programs and was curious about why some leaders were substantially more effective than others, why some struggled to move people to concerted action while others were able to inspire transformative changes in organizations.  My research on power and influence led to the creation of a comprehensive model that includes the eleven sources of power, ten positive influence techniques, four negative influence techniques, and twenty-eight skills related to the effective and ethical uses of influence.  This book describes the sources of power.  My companion book, Elements of Influence:  The Art of Getting Others to Follow Your Lead (AMACOM Books July 2011) explains the influence strategies and techniques.
This book is based on nearly 20 years of research on the uses of power and influence around the world. The research database included more than 64,000 subjects and 300,000 respondents.  The Survey of Influence Effectiveness (SIE) measured a person's sources of power as well as how frequently and effectively he or she used various influence techniques and how skilled he or she was in twenty-eight areas related to effective leadership and influence.  Some of the research results appears in this book and some in my companion book, Elements of Influence (AMACOM Books July 2011), and some appears at my Web site  www.theelementsofpower.com.
 The Elements of Power was named one of the "11 Best Business Books for CIOs in 2011" by CIO Insight
Reviewers' Comments
This book combines the latest research on the nature of power all over the world with a handy self-assessment and invaluable insight into how power works in organizations, how people use and lose power, the relationship between power and leadership, and sources of power and hoew to build each one.  --Booktopia

Enlightening, engaging, and truly empowering, THE ELEMENTS OF POWER is a source book for execu­tives, managers, and everyone called to influence and lead others in the best ways possible.   Throughout, "Portraits in Power"—celebrating PepsiCo CEO Indra Nooyi, journalist Fareed Zakaria, Nobel Peace Prize winner Aung San Suu Kyi, Chinese movie star and World Wide Web sensation Xu Jinglei, homeless activist Sister Mary Scullion, award-winning post-operative specialist Dr. Peter Pronovost, Saudi Oil Minister Ali al-Naimi, acclaimed poet Maya Angelou, Bill Gates, and President Barack Obama among other notable lead­ers—offer abundant inspiration. The book culminates with a Power Sources Self-Assessment to help readers measure the relative strength of their own power sources, complemented by strategies for building up their weaknesses and alerts to common pitfalls and practices that can diminish their strengths.      --Matt Krumrie, Minneapolis Workplace Examiner

Talk about "power" -- this book has POWER!  Terry Bacon has delivered to us it all in his real-world exploration of leadership, power, and influence.  From Terry's erudite development of and distinctions between personal and organizational power -- to his insights on how to increase your voltage -- this book deserves to be a requisite component of every organization's Leadership Development focus.    --Lucy Dinwiddie, Vice President, Organizational Development, ConAgra Foods

Power and influence are complex concepts. In The Elements of Power, Terry R. Bacon does an exceptional job of explaining the critical sources of power in any type of organization, how to build power, and how easy it is to diminish power once it is established. Through tangible examples, this book provides ways to better identify and understand how to fundamentally strengthen one's organizational impact at all levels and highlights the importance of understanding how power is expressed differently in different cultures.    --Vicki Rawlinson, Global Head HR Oncology, Novartis Pharmaceuticals Corporation

If you've ever wished that someone would pull back the curtain so you could learn from the use (or abuse) of power by Bill Gates, Barrack Obama, Elliot Spitzer, Indra Nooyi, Rahm Emanuel, Warren Buffet, and Jeff Bezos, your wish has been granted.  The Elements of Power neatly dissects the art and science of influence and leadership as practiced by leaders from every part of the globe.  --Tom Connellan, New York Times Bestselling Author

Terry Bacon breaks down the sources of power and influence at a very granular level, allowing readers greater insight into both sides of the 'Midas Touch'—use and abuse.  --Rahm Sitaraman, Global Strategy, Coca-Cola

Terry Bacon, who's been dissecting what makes business leaders tick for decades, now cuts into the core muscles of success:  power. He brings his deep knowledge to bear, naturally, but also a wonderful, wide-ranging sense of curiosity. His insights emerge from politics, sociology, psychology and the arts -- or from the lives of luminaries such as Nobel laureate Aung San Suu Kyi, Bill Gates, Eleanor Roosevelt, even Brad Pitt and Angelina Jolie. It's all in the service of breaking down this abstract concept -- power -- into easily understood parts. All readers, but especially business executives, will come away with an invaluable understanding of what power cells are inside their personal battery packs and how to keep them fully charged.  --Gary Burnison, CEO, Korn/Ferry International

I read a great book The Elements of Power - Lessons on Leadership and Influence by Terry Bacon.

A part of me thought power was bad and not something to strive for. I think this is because it is often misused. Also my perception was often of coercive or oppressive power which although are powers, tend to be less powerful than good power. I always prefer to inspire (which still requires power).

Bacon has a section on the morality of power.

In order to accomplish things, we need power. "Power is like a battery. The more voltage (power), the more it can potentially do." Hence the importance of a book on power. The more we understand the sources of power, the better able we are to tap them.

I like the chapter summaries (Bacon calls them Key Concepts) at the end of each chapter. There is also a "Challenges for Readers" at the end of each chapter - questions to stimulate thought.

Key Concepts from the first chapter:

1 - People have 5 sources of organizational power (role, resources, information, network and reputation), 5 sources of personal power (knowledge, expressiveness, attraction, character, and history) and one metasource (will).

2 - Power is like a battery...

3 - Power is relational and dependent on the domain in which the person is operating.

4 - The magnitude of your power is dependent on your relationships.

5 - Each power source can also be a power drain.

6 - Power can be diminished (EG when a person leaves a position)

7 - Power is not immoral (although it has the potential to be - especially when the power is absolute)

The rest of the book elaborates on these seven points showing us how to enhance them and giving stories of how they have been gained, used or lost.

As I read the book, I realized I actually intuitively cultivated many power sources. I know those elements of power have allowed me to accomplish what I have. And I also realized how charmed I am to have much of the power that I have (caused by history, network, information etc.)

I loved the book. It is well organized, well written and thought provoking.

Read more: http://www.jimestill.com/#ixzz1CGBOvZ00