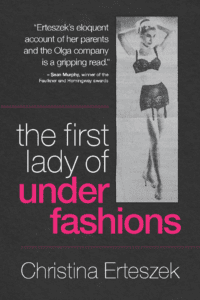 In her new book, The First Lady of Underfashions, Christina Erteszek tells the fascinating story of her parents and their founding of the legendary Olga brand of women's underwear.  Jakub Erteschik and Otylia Bertram met in Krakow, Poland, in 1933.  After a fairytale romance, they were to be married on September 3, 1939, but Nazi Germany invaded Poland on September 1, forcing the young couple to flee their country and find refuge in Soviet Russia.  After a long, harrowing journey, survival uncertain, they made their way, separately, to Japan and then to America.  Their escapes from Nazi agents and Soviet border guards and secret police spoke of their tenacity, guile, and courage.  The author deftly weaves her parents' journals with her own narrative, which gives the saga intimacy and power.
Equally fascinating is the story of their founding of the Olga brand of women's underwear.  A chance sighting on a streetcar led Olga Erteszek to design and create under fashions that were more comfortable, stylish, and elegant than the bland, often ill-fitting and uncomfortable garters, girdles, and brassieres women were wearing in the 1940s.  Olga's genius for fashion and Jan's business acumen enabled them to build one of the most recognized and celebrated upscale lines of women's underwear in the post-war era.  Their lives—from immigrants to industry leaders was the perfect realization of the American Dream.
But growing up Erteszek, which is the title of one chapter, was not easy for their youngest daughter, and Christina paints, with unusual candor, both the trials and triumphs of growing up with her two older sisters in the home of successful and increasingly famous parents.  As is often the case, she felt closer to one parent than the other, and she had to negotiate a place for herself in a world of their making.
The Olga company and the future of the brand took an unexpected turn as her father's health declined, and the end of the book is a cautionary tale of what can befall the American Dream when greedy financiers with no grasp of what makes a brand great take over a company others have so lovingly created.
The First Lady of Underfashions tells the remarkable story behind the Olga Company's tag line in many of the advertisements:  "Behind every Olga there really is an Olga."  The book will be released mid-April at local bookstores and online retailers.  You can pre-order the book at Christina Erteszek.com.
You can also join Christina Erteszek via Zoom at her book's official launch on Tuesday, April 27, at 6:30 pm Mountain Daylight Time.  Hosted by Maria's Bookshop in Durango, Colorado, the Zoom link is https://us02web.zoom.us/j/89314192696.
Photos courtesy of Christina Erteszek.  Used with permission.