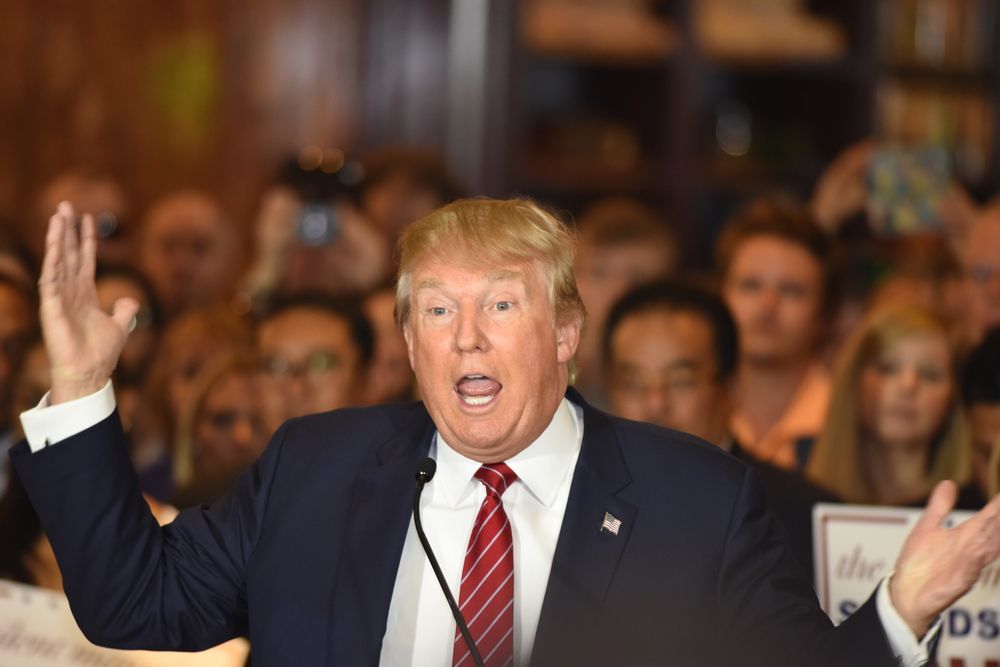 His Five Strategies for Conning His Constituency
He is a deeply flawed leader–a vain, narcissistic self-promoter; an exemplar of moral turpitude; an absurdly uninformed, undisciplined and inarticulate thinker; a grandiose misfit who can't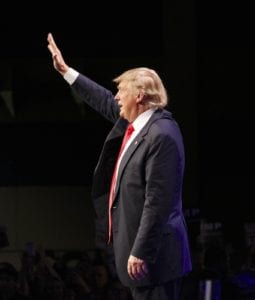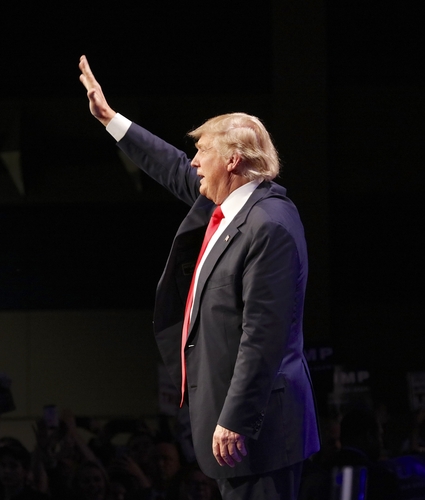 tolerate criticism and lashes out at every slight, deriding opponents with schoolyard taunts and blatant misrepresentations.  He is scandalously hostile or indifferent to our closest allies but embraces dictators and tyrants like new-found best friends.  And he lies, so shamelessly and so often that truth is obscured in the chaos of the noise and confusion he creates.
He is our president.
How he won the presidency—and how he maintains a loyal following among a devoted minority of Americans—is a case study in the art and practice of manipulation.  He longs to be incomparable among men, and while he is a deeply flawed leader of our nation he is unquestionably a great flimflam man, perhaps the greatest in history.  Flimflam is the art of fraud and deception, a con game achieved by clever manipulation of victims.  Donald Trump practices this dark art through the accomplished use of five strategies:  ignoring, counterattacking, obfuscating, agreeing (and then disregarding), and minimizing contamination.  He uses these five strategies so predictably that they've become behavioral tics, his signature moves for confounding both his allies and his enemies.
Ignoring Controversies
One of Trump's most frequent strategies, especially in dealing with issues that would derail a normal president, is to ignore the issue long enough for it to die on the vine.  He has done this successfully so far with the Stormy Daniels controversy.  An alleged affair with a porn star is tawdry enough to rank with Bill Clinton's use of a cigar with Monica Lewinsky, but Trump has simply declined to respond to the allegations with one notable exception—when he lied on Air Force One about not knowing about Michael Cohen's payments (just days before the election) to Daniels to buy her silence.  But for that one slip, Trump has consistently ignored the Stormy Daniels controversy and allowed his minions to deny the affair and deflect Michael Avenatti's ongoing attacks.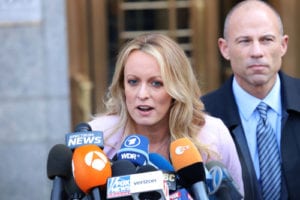 The Daniels affair has generated ongoing buzz because Avenatti (Daniel's attorney) has doggedly pursued it in the media, but Trump has been more successful in ignoring his affair with former Playboy model Karen McDougal, with whom he had an ongoing relationship after First Lady Melania Trump gave birth to their son.  It is arguably more morally repugnant to have an affair while your wife is nursing a baby than to have a one-time romp with a porn star, but the McDougal affair has faded into the recesses of public memory because McDougal lacks an Avenatti bulldog.
Ignoring his affair with Karen McDougal has worked beautifully for Trump.  So has ignoring the controversy surrounding White House aide Kelly Sadler's comment that they could ignore John McCain's opposition in the Senate "because he's dying anyway."  That impolitic blunder made huge waves in the press and brought well-deserved ire down on a White House insider who crudely attacked a war hero and highly respected Senator.  Trump dealt with the controversy—by ignoring it.  He refused to address the aide's comment and did not fire her, as most normal people would, and his minions chose to deflect attention to the outrageous comment about McCain by attacking "leakers" in the White House.
Trump also deftly ignored the criticism following his Oval Office meeting on immigration when he said, "Why are we having all these people from shithole countries come here?"  Likewise, he ignored criticism of his failure to condemn far-right extremists in Charlottesville, Virginia, who marched through the streets carrying torches, screaming racist remarks, and attacking counter-demonstrators.  In both cases, his unpresidential behavior drew widespread bipartisan ire, and he dealt with it by ignoring it.  Trump knows that news cycles have a short half-life and when people become preoccupied with the latest controversy the previous one loses steam and fades into the dustbins of memory, disregarded by his loyalists and deflated in the minds of detractors whose endurance, after all, does have limits.
Counterattacking Opponents
Trump has frequently said that he is a counterpuncher.  What this means is that he allows no slight, insult, or opposition to go unpunished.  He uses this strategy to defend against the most serious threats to his self-image or position:  Hilary Clinton's candidacy, the firing of James Comey, the Mueller investigation, and credible vocal critics.  He counterpunches principally through ad hominem attacks, labeling his opponents "Crooked Hilary," "Slippery James Comey," "Crazy Bernie (Sanders)", "Goofy Elizabeth Warren" and "Pocohontas," "Little Rocket Man (Kim Jong-Un), "Dickie Durbin," "Liddle Bob Corker," and so on.  In an unusual moment of candor, Trump revealed his purpose in using these schoolyard put-downs to 60 Minutes' Leslie Stahl when she asked why he relentlessly attacked the press.  He replied, "I do it to discredit you all and demean you all so that when you write negative stories about me, no one will believe you."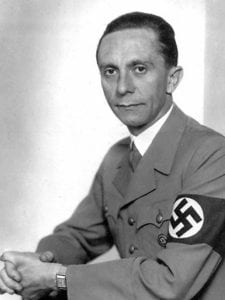 That is Trump's strategy in a nutshell:  to discredit his opposition through relentless accusations and name-calling, which he knows will stick in the minds of many rank-and-file voters if he repeats it often enough.  As Nazi Propaganda Chief Josef Goebbels once observed, "The rank and file are usually much more primitive than we imagine.  Propaganda must therefore always be essentially simple and repetitious."  Trump knows this better than any living politician.  If you append a simple, demeaning moniker on an opponent and say it frequently enough through mass media, you can discredit your opponents and persuade millions of people to believe the worst about them, even if they're lies.
The Mueller investigation of Russian meddling in our 2016 election is the most serious threat to Trump's ego, credibility, and presidency, and his counterattack on Robert Mueller is consequently more complex though it's essentially the same strategy.  Through a rotating team of lawyers, he has sought to denounce the investigation as unconstitutional, politicized, and unfair.  Many of his Twitter attacks are focused on the Mueller investigation, wherein he repeats the words, "Witch hunt," "no collusion," and "angry Democrats."  His lawyers, notably Rudy Giuliani, frequently appear on news channels berating the investigation for one reason or another.  Giuliani confessed recently that they were attempting to damage Mueller's credibility enough to undermine any subsequent attempt to impeach Trump.  Never mind that the truth matters and that Russian meddling in our democracy is a serious and ongoing threat to the country; their only aim is to protect Donald Trump.  And it appears to be working.  An alarming number of Americans today believe the Mueller investigation is politically motivated.
Creating Alternate Realities to Obfuscate the Truth
A common Trump strategy is to blatantly lie so as to create an alternate reality.  His charge last year that the Obama administration wiretapped his campaign phones is one example.  There was absolutely no truth to this charge, but to Trump the truth doesn't matter.  His aim is to make noise and distract both his supporters and detractors with conspiracy theories so patently ridiculous that only fools would believe them—and plenty of fools do.  They're the same fools who argue that the Earth is flat, that NASA faked the moon landings, and that our government masterminded the 9/11 terrorist attacks on the World Trade Centers and the Pentagon.  The lunatic fringe is eager to believe such nonsense, but a sizable part of the population is also gullible because they want to believe Trump's claims.  They support the conservative tide he represents and are willing to believe it's possible that Obama, whom many of them hated, could have stooped to wiretapping his political enemies. Here, confirmation bias is working in Trump's favor.  People are inclined to believe something that confirms what they already think is true, so if Trump's claims the Democrats are to blame for separating immigrant children from their parents–a claim Trump has made many times although it's untrue–people in Trump's base are inclined to believe it because they are already biased against Democrats.  Similarly, Trump has claimed that Democrats want to protect criminal gangs like MS-13.  This is another blatant lie, but enough of Trump's supporters will believe it because they want to believe Democrats are weak on crime.
Just a month ago, Trump was promoting what he termed "Spygate," the idea that the FBI planted a spy in his campaign.  He railed against this phony offense on Twitter, and many of his supporters ate it up.  Trump's been trashing the FBI (largely because of their role in the Mueller investigation and because the hated James Comey used to direct the agency), so Trump's more gullible loyalists could well imagine that he'd been wrongly spied upon by our own government.  When Congressional leaders heard the classified account of what the FBI actually did, the Spygate charge lost its luster.  No less a conservative Republican than Trey Gowdy said there was nothing to Trump's Spygate charge, and Paul Ryan later confirmed Gowdy's conclusion.  Both of these Trump-manufactured conspiracy theories were nonsense, but he doesn't care.  His goal is to use fake facts to create noise in the system, to rile up his supporters and dominate the news cycles until he uses Another Next Big Lie to sow more confusion.
Like a good propagandist, Trump understands the value of symbolism.  He surrounds himself with American flags, military bands, and members of the military.  He professes outrage at NFL players taking a knee during the National Anthem and uses the media to excoriate them, saying not only that they should be fired but that they should leave the country.  He wraps himself in the symbols of patriotism and denounces his opponents for being unpatriotic.  In the 1930's, Hitler did the same thing in Germany, and the Nazi flag became a symbol of righting all the imagined wrongs that Germany's enemies had inflicted on the Motherland.  Hitler built his power base by excoriating his enemies and adopting German patriotism as both a rallying cry for his supporters and a weapon against his detractors.  When Trump declares that Democrats are unpatriotic, you should not believe it–but many people will, particularly those in his polarized base–but also many people who might be on the fence.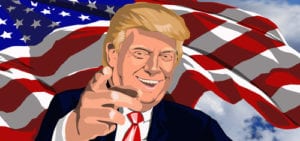 Appearing to Agree—and then Disregarding the Agreement
During his presidential campaign, Trump was repeatedly asked to make his income tax returns available.  He delayed by saying that his returns were being audited, so he could not release them.  The IRS said that an ongoing audit did not matter; his returns could be released.  But Trump stuck to the assertion that he couldn't release his returns until post-audit.  Then the election came and went, and he still hadn't released his returns.  Afterwards, when people asked for his returns, he said he won the election without releasing his returns, so it obviously didn't matter to the voters.  He still hasn't released any returns.
With this strategy, Trump appears to agree with someone, makes excuses why it can't happen right away, and then allows the issue to become a non-issue by delaying until it no longer matters.  Another example of this strategy is his response to the Parkland, Florida mass shooting at Marjory Stoneman Douglas High School.  In the horrific aftermath of that massacre when there was so much emotional fervor about gun control and taking steps to curtail the violence in our schools, Trump met with some Stoneman Douglas survivors and parents, and he earnestly promised to take steps to curb school violence, including some gun control measures.  He spoke loudly and (in)sincerely in a cabinet meeting about not being afraid of the NRA.
Then he appointed a commission to study how to end school violence, and he put Education Secretary Betsy DeVos in charge of it (surely the best way to ensure that nothing beneficial will come from it).  Recently, the DeVos commission said they were studying many ways to curb school shootings but were not looking at guns as an issue.  So much for Trump being unafraid of the NRA and being invested in ending school violence.  Just over two months after the Parkland shooting, he was a headline speaker at the NRA Convention.  When Donald Trump appears to agree with you, watch out.  He is as insincere as a con man's smile and slipperier than a smooth-soled shoe on ice.
Minimizing Contamination
Here is a warning to Trump's close friends:  you may be in-house now but if stuff sticks to you you'll be out-house soon.  Among Trumps close friends who've felt the wind on their backs as they've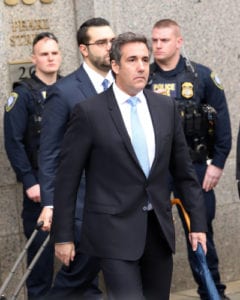 been dumped are Michael Flynn, Paul Manafort, Steve Bannon, and Michael Cohen.  Trump demands unconditional loyalty, but his own loyalty to others is barely skin deep.  His strategy, when scandal strikes nearby, is to minimize the contamination by distancing himself from the infected party.  After Paul Manafort came under Mueller's microscope, Trump's staff spun the idea that Manafort was a minor player in the campaign.  Trump dismissed him as having served only 45 days on the campaign.  Likewise, after Michael Cohen's woes deepened, the official line was that Cohen actually did very little legal work for Trump and is no longer representing Trump.
Trump's White House washing machine has a huge spin cycle operated by the likes of Sean Spicer and Sarah Huckabee Sanders, and no distortion of the truth is too large for these intrepid image cleaners.  They can make the dirtiest laundry look and smell brand new, or at least they try hard.  Many  people can see through this charade and recognize the attempt to manipulate reality, but enough other people will be fooled to make the effort worthwhile.
The pattern here is as evident.  If an issue is an embarrassment to Trump that he can't make go away he will ignore it until it drops off the front page.  If an issue is serious, he will counterattack, usually through ad hominem attacks or he'll try to create an alternate reality based on big, bold lies.  If he can't avoid an issue, he may appear to agree and then disregard the agreement later, and if the issue is an insider who's caught in a scandal, he will minimize the contamination by distancing himself.  What these strategies rely upon is the gullibility of a large part of Trump's audience and his willingness to misrepresent the facts in order to create noise and confusion.
This is how Donald Trump wins.  It's how he's always won, and it's how he will continue to win.  God help us if the country's best interests get in the way because nothing matters to Trump except winning.
Photo credits:  Trump with arm raised:  Joseph Sohm / Shutterstock.com; Trump in front of U.S. flag:  VILevi / Shutterstock.com; Trump at rally:  a katz / Shutterstock.com; Stormy Daniels and Michael Avenatti:  JStone / Shutterstock.com; Michael Cohen:  JStone / Shutterstock.com.