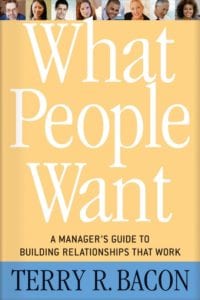 What People Want reveals the truth about what it takes to build employee-manager relationships that matter—both to the people involved and to the bottom line.  Packed with fascinating results from first-of-its-kind research, this road map through today's workplace of changing demographics, diversity, and differences offers a multitude of tools and advice for building trust, creating a respectful environment, being sensitive to others, setting the right tone, and developing the kinds of relationships that result in lower turnover, higher productivity, and greater employee satisfaction.
I wrote this book after coaching a manager who was technically proficient but awfully inept with people.  Early in the coaching process he decided that he needed to become a people person and asked if I could help him do that.  This man was in his mid-forties—probably too old for a significant change in his personality and operating style—but I told him I could tell him what good people persons do, and if he behaved the way they do he would be able to improve his relationships with his employees.
Afterwards, I thought about what people want from their boss.  What do they want from the relationship?   How do they expect their boss to treat them?  What behaviors from the boss make the difference between employees who are tolerating their workplace and those who are engaged and thriving in it?  These questions led me to initiate research on what people want in the workplace and what they want from their relationship with their boss.  The results confirmed many of my hunches about what people want—but there were some surprises, too.  The number one thing people wanted from their boss was to feel trusted.  Among all the things that mattered (feeling challenged, appreciated, recognized, and so on), feeling trusted was most important.  In later posts, I'll discuss their own wants and needs.  For now, I'll focus on trust.
Aneil and Karen Mishra at Michigan State University wrote an excellent book on this topic called Trust Is Everything.  They say that "trusting others means you are willing to be vulnerable to them in the face of uncertainty" (Mishra and Mishra, p. 8), and they argue that trust has four dimensions, which they call the ROCC of Trust:  Reliability, Openness, Competence, and Compassion.  There are probably as many definitions of trust as there are people to define it, but I like elegant simplicity of this framework.   Translated to What People Want, it suggests that what employees most want is to feel that their boss considers them reliable (dependable, trustworthy), open (honest, forthright, candid), competent (capable, skilled), and compassionate (empathetic, caring, not self-focused or self-centered).   Trust from a boss is crucial because it helps validate an employee's self-image and feelings of worth as a human being.  Working for someone who doesn't trust you can be humiliating and self-defeating.  It can lower self-confidence, increase anxiety, and lead to depression.  So this issue of trust between a boss and his/her direct reports is of crucial importance to how people feel about their work, how engaged they are in it, and how productive they are.  As the Mishras say, trust is everything.  That's why it's what people want most.
Reviewers' Comments
Fills the reader's mind with high-test tips to create more successful and sustained relationships.  Terry Bacon offers us all practical interpersonal tips to smooth our trip and really enjoy the ride!  —James Brolley, Director, Organizational Development & Training, Harley-Davidson Motor Company.

 Argues persuasively that everyone can learn to behave—and possibly even to be—more like a "people person."  If you know it's important but don't know how to do it, this is the book for you.  —Dr. Michael Watkins, author, The First 90 Days.

An amazing book—one of the few that both educates and reminds us of what people really want and need from their managers.  —Michelle Lewis, Vice President, Corporate Human Resources, E. & J. Gallo Winery.

 Pay attention, Over Achieving Managers!  I find this book to be just about as good a guide to both leadership and life as one can find. A gem worth using professionally and personally. —Four Corners Business Journal, December 17, 2007

 Uncovers the truth about what employees want from their bosses. Reveals insights into the motivations that drive individual behavior. —Training and Development, January 2007

 Being an over achieving manager, are you surprised by being perceived as an insensitive manager by your employees?

It is not enough just getting the job done. You must also be highly sensitive to others at the workplace in order to flourish in management. Sensitivity plays a key role in building relationships with employees.

Do you really know what your employees want from you?

This book unlocks the secret of being a more sensitive manager. It is packed with diagnostic tips for identifying your insensitive behaviors, if any, and full of actionable suggestions that you can take immediately, if needed.

How sensitive do you need to be at the workplace? Terry Bacon has "Manager's Levels of Caring for Employees" for you. While you should be yourself, not faking it, you should know what is expected of successful managers in American workplace. If you decide that you are not comfortable to exhibit the expected behaviors, you should probably reconsider your career objectives.

Relationship is like a plant; you must continuously care and feed it for it to prosper. I recommend that you read this book periodically as self-examination of your relationships at the workplace. If you discover that you are exhibiting bad behaviors, you can quickly fix them by changing your bad behaviors to the more favorable ones.

This is a great book for building and maintaining good relationships not only with your employees, but also those outside of workplace with whom you wish to develop long lasting relationships.  –Jessica Lee

A wealth of information applicable to nearly any middle-sized business structure.  WHAT PEOPLE WANT: A MANAGER'S GUIDE TO BUILDING RELATIONSHIPS THAT WORK is based on original research involving some 500 professionals across a range of industries who comment on the motivators which produce workplace results. Managers and business students will benefit from these real-world examples paired with nearly 200 applied practice tips, and will find a wealth of information applicable to nearly any middle-sized business structure.  —Diane C. Donovan, California Bookwatch

Practical and Powerful Guide for Leaders.  Terry Bacon's book is a compelling guide that I would recommend to individuals who are new to the leadership arena, as well as those who are already in management. It highlights leadership theory with practical examples, and the content is laid out in easily digestible segments. Terry combines research based theory with real life scenarios which help the reader relate and apply the concepts to their own situations. I think it should be required reading for all new managers. Great book!  —L.A. Clifford