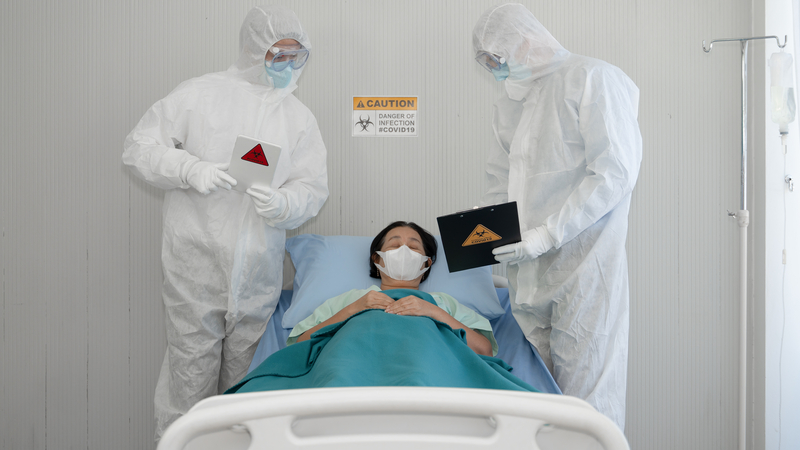 This is Covid-19 Bulletin #3 from Dr. Sheila Sund.  Covid-19, which is the proper name for the coronavirus that is currently spreading around the world, is a far more dangerous virus than the flu (twenty times more lethal than the flu), and it is likely that the rate of infection is much greater than what is known and being reported by the media–because no one knows how widespread the infection actually is.  As of today (March 3, 2020), more than 130 Americans have been diagnosed with Covid-19, and ten have died.  The numbers are growing daily.
Dr. Sheila Sund is a retired hospice and palliative care physician in Oregon.  She became involved with disaster medicine following the H1N1 influenza outbreak in 2009. As part of a statewide workgroup, she helped developed Oregon's Crisis Care Guidance—guidelines to direct healthcare response during a public health crisis such as pandemic or mass trauma. She served as Director of the Marion County Medical Reserve Corps and physician representative on Oregon's Region 2 Coalition for Healthcare Preparedness. She has given over one hundred presentations to community, healthcare, and business groups throughout the Pacific Northwest on topics ranging from earthquake preparedness to pandemic response.
Chinook CERT Plus – COVID-19 Bulletin #3, March 3, 2020
COVID-19 in Oregon and Washington and my concerns about testing
As of today, Oregon has identified three cases of COVID-19, with twenty-seven in Washington. Many are thought to be community acquired. But if you look closer, descriptions of the identified cases are all either:
1) hospitalized with severe illness (including death) or
2) known contacts of other cases.
Despite the risk of community spread, the actual number of tests for coronavirus is quite low—only 25 in Oregon since the first community case was identified on February 28. It is not a problem with testing availability. Oregon can now run 80 tests a day and Washington up to 500.
Instead, state health officials are still following CDC criteria for testing:
 known contacts with fever and signs of lower respiratory illness
 travel from affected areas plus fever, signs of lower respiratory illness, and hospital
 no known contact but fever and severe lower respiratory illness (ie critical care)
My opinion:
When testing is limited to these criteria, it is impossible to determine if COVID-19 is spreading in the community:
1) If each patient only infects two others (current estimates), the likelihood of finding both those "two cases" by testing a limited number of contacts is low.
2) Limiting testing to critically ill patients will miss 95% of cases who never get that sick.
Even worse is the danger of "losing" healthcare workers with this approach to testing.
Critically ill patients average 3-7 days in the hospital before testing is performed—yet are infectious the entire time! Dozens of hospital staff from Kaiser Westside in Hillsboro are now quarantined at home after the initial Oregon case was identified in their facility. Similar quarantines are being implemented at other hospitals around the country.
An additional 10% of infections will be hospitalized but never tested by current criteria—thus never identified as contagious.
Besides being unfair, the loss of healthcare workers can seriously impede our ability to respond to outbreaks of COVID-19. In turn, this could lead to a higher overall fatality rate from COVID-19, as well as affecting availability of healthcare for everyone, infected or not.
(Sorry for the rant, but this has caused me more alarm than anything else about COVID-19 so far!)
Preparations for community spread of COVID-19
At work:
Desktops, tabletops, and counter tops.  Clean and disinfectant (wipes or spray) daily when sitting down
Repeat daily – more often if used by more than one person.  Disinfectant should stay wet for several minutes
Door handles, phones, keyboards, other objects used jointly:  disinfect daily
Avoid handshakes, hugs, and other physical contact with coworkers
In meetings, position yourself at least 6 feet away from others when possible.  If not possible, orient yourself away from other people's faces.   Corner or wall locations can decrease shared "face space."
Go to restroom every hour and wash hands – set an alarm!
Also wash hands immediately before eating.
DO NOT TOUCH YOUR FACE
            DO NOT WORK IF YOU FEEL SICK
            DO NOT LET OTHER EMPLOYEES WORK IF THEY FEEL OR ACT SICK
At home:
Consider establishing a "dirty area" at the entrance of your house.  Anything from outside the house stops here!
Shoes, purses, backpacks, grocery bags (unpack bags from dirty area)
Avoid setting anything from outside on counter tops.
Groceries and supplies go immediately into cupboards.
Thorough hand washing:
As soon as you enter and set down "dirty" things
After putting away purchases
After cooking (and touching "dirty" things) and before you ea'
Clean and disinfect tables and counters once or twice a day.  Only if they come in contact with dirty hands or dirty things
House door handles, car door handles, steering wheel, other "touchable" car areas:  disinfect once a day (or after outings)
BE PREPARED FOR QUARANTINE!!
If your coworker, friend, schoolmate, or housemate gets coronavirus, congratulations! You may win an immediate fourteen day (or more) forced home vacation, possibly with your family!
You'll be expected to phone in your temperature and symptoms twice daily. Other than that, don't expect much help. Better make that grocery run now for fourteen days of supplies. Quarantine could happen tomorrow!
Photo credit:  ID 173074233 © Akesin | Dreamstime.com