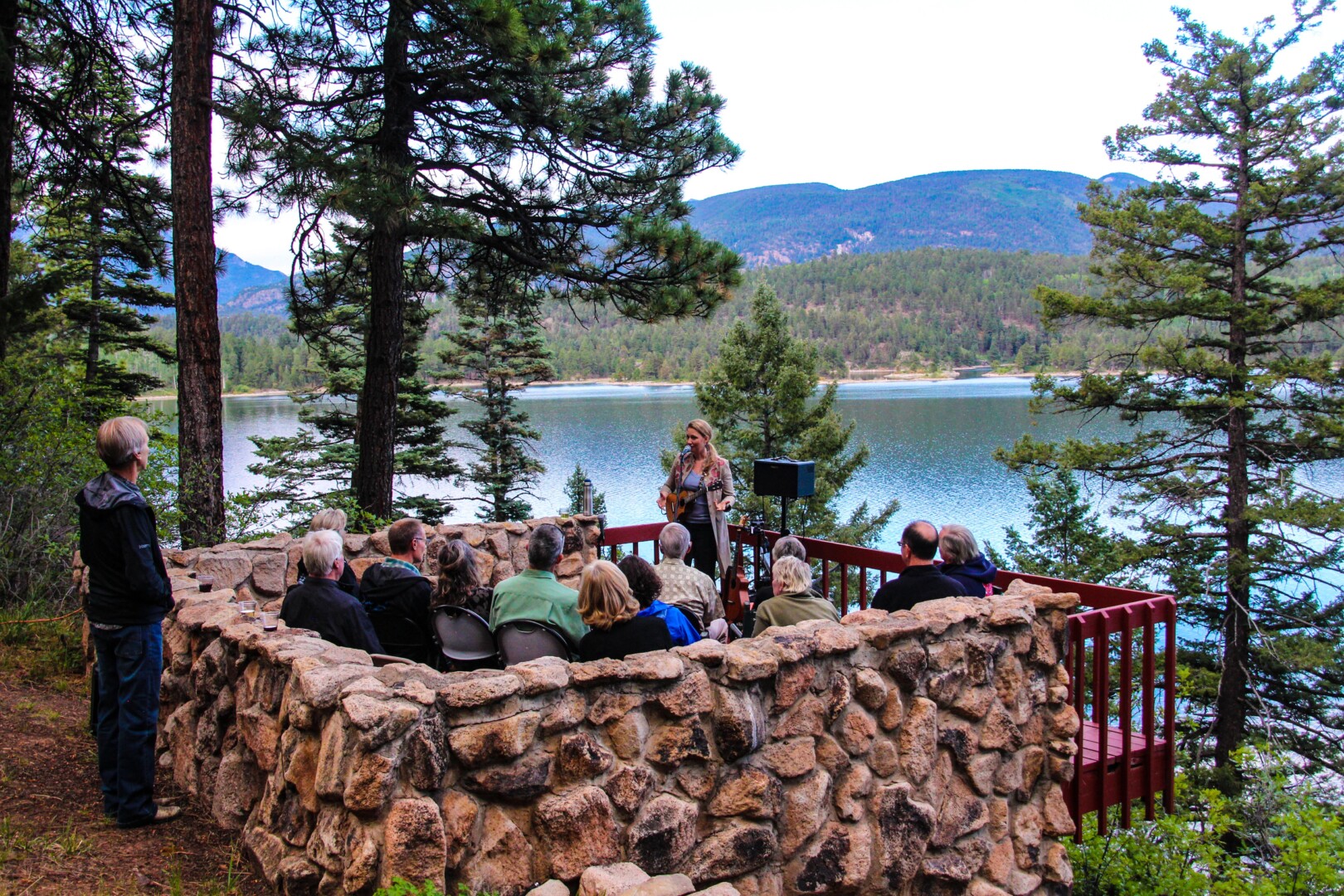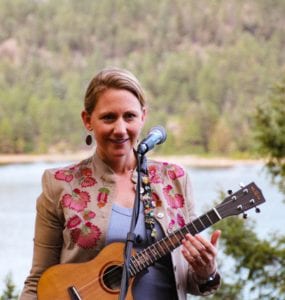 Victoria Vox?  I'd never heard of her until Denise Leslie, director of the annual Rocky Mountain UkeFest, asked if I would host a small party at Electra Lake where Victoria would perform.  We have a house at Electra that overlooks the lake, is nestled in tall Ponderosa Pines, and has a panoramic view of the surrounding mountains.    In June, we'd had to evacuate Electra because of the 416 fire, which burned more than 50,000 acres of forest north of Durango and west of Electra Lake.  But firefighters kept the blaze from spreading to Electra and by mid-July the dense smoke, which had smothered the valley in June, had dissipated.  On the evening of the party, the air was clear and the moonglow shimmered across the lake.  It was a perfect evening for a party on the lake.
Victoria Vox is a modern minstrel.  In medieval times minstrels were poets or musicians who traveled from town to town reciting poetry or singing while accompanying themselves, usually on a stringed instrument.  That definition fits Vox perfectly.  She studied songwriting at the Berklee College of Music and has been a professional traveling and recording musician for more than a decade.  Her stringed instrument of choice is the ukulele, and she has mastered it.  In her hands, the instrument sounds as good as a well-played guitar—with all the nuance and color that give her playing character.  It's the right instrument for her voice, which is sweet and lyrical but not operatic.  She ranges between baritone and tenor and is pitch perfect.
As I listened to her performing at the lake I thought she sounded like a county fair singer, and I mean that as a high compliment.  She is down to Earth and approachable, the girl next door who sang so beautifully in choir.  She's the kind of singer you can listen to for hours, tapping your feet or slapping your knees, drinking an ice cold lemonade or beer, the sun warming your back, while on the fairway people are eating cotton candy and in the exhibition hall on the other side of the fairgrounds people are admiring the 4H-kid-raised pigs and steers.  I could also imagine her singing in a coffee house or a pub with good acoustics where you wish people were quieter so you could just enjoy the sound of her voice.  But with tunes so danceable, you wind up on your feet, feeling the rhythm in your bones, and spend the night in carefree kinetic joy.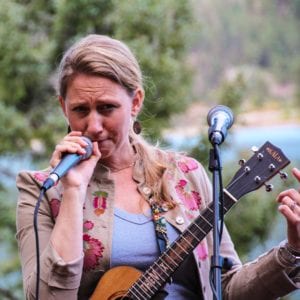 What makes her solo act work so well is that the accompaniments are simple.  Just her 4-string ukulele, sometimes with some reverb, which allows listeners to focus on her voice and the lyrics to her songs.  Her sound is not overproduced the way some singers' acts are.  Even in her albums, it's the clarity of her voice that carries her music, not an orchestra of instrumental and vocal extras masking the lead singer or a recording volume so loud and music so professionally mixed that you can't listen the songs for the wall of noise.
Vox bills herself as a pop singer, but her songs are also reminiscent of folk, blues, and especially country.  If you're interested in listening to her albums, start with When the Night Unravels, which features some of her most memorable tracks:  "Supermoon," "Call a Truce," "You're No Island," "Looking for a Man," "Two Bridges," and "Use the Brakes."  This album is pure Vox.  A change of pace album is Boombox Séance, which features "Strangers in the Dark," a fascinating fusion that reminded me of disco and trance; "Denial," another fusion track that sounds like goth fashion set to music or a hip vampire film with dancing demons; "Living with a Ghost," a haunting melody of sweet sadness; and "Here Comes the Rain Again," the one odd-ball track in that it was written by Annie Lennox and Dave Stuart, not Victoria.  This tune is popular fare in amateur ukulele jams around the country, and Vox performs it exceptionally well.
The easiest way to become acquainted with Victoria Vox's music is to search for her on YouTube, where she has strong presence.  She sometimes performs with her husband, Jack Maher, in a duo they call Jack & the Vox.  They do a very good version of Dire Straits' "Sultans of Swing" at https://www.youtube.com/watch?v=z3atBdtWi8cf.  Beyond some outstanding ukulele playing, this video is memorable for two things:  they perform the song in a laundromat, and their accompaniment includes Victoria Vox playing a mouth-trumpet, which is not something you see every day.  Vox has perfected mimicking the sound of a trumpet with her mouth.  She demonstrates this unique talent in a video clip at https://www.youtube.com/watch?v=yr-GvNmeQ5Q.  To play a convincing mouth trumpet, the musician has to have perfect pitch control, and Victoria does.
A final video clip I'd recommend is Victoria Vox being interviewed on KSUT along with fellow ukulele players Daniel Ward and Jason Arimoto (https://www.youtube.com/watch?v=_E_FOBWjSXQ).  The three performers were in Durango for July's Rocky Mountain UkeFest.  Early in the interview the three performed Jason Arimoto's composition "O Ka Aina," a beautiful song Ward and Vox had learned just before the interview began.  At the end of the interview, the impromptu trio performs Victoria's "C'est Noyé," her original composition which won first place in the International Acoustic Music Awards and is featured on her album Chameleon.
Vox once challenged herself to spend one year (52 weeks) writing one new song each week (which she did).  Another time she undertook the 52-week challenge of learning one new song every week that was written by someone else.  That project is posted week-by-week on YouTube and led to her album Under the Covers, which includes "Benny and the Jets" (Elton John), a song that features her mouth-trumpet; "Blackbird" (Lennon and McCartney); "I'm on Fire" (Springsteen); "Why" (Annie Lennox); "Hallelujah" (Leonard Cohen); "Summertime" (Gershwin), another track with her mouth-trumpet; and "One Little Song" (Gillian Welch).  Another change of pace album for her, Under the Covers showcases her sweet, lyrical voice and instrumental phrasings in a collection of familiar songs.  What it doesn't showcase is her talent as a songwriter, and for that you need to listen to her other albums.  Better yet, go to her website and find out where she's touring, and catch her live.
On that evening at Electra Lake, our small audience sat for hours in the twilight as Victoria Vox made girl-next-door magic with her voice and fingers.  Moonlight shimmered on the lake, the tall trees stood silent above us, and the mountains lay in lumbering repose across the water.  The night couldn't have been more perfect.
Photo credits:  All photos by Debra A. Parmenter.